On Friday 10th June, MAHSE held the first in person STP Research Day since 2019 at etc.Venues, in Manchester. The main purpose of the event is to give the final year trainees an opportunity to showcase and celebrate their contribution to research within healthcare science and, this year, the programme included poster presentations from 8 students and talks from a further 11 students, all from a range of disciplines.
First prize for the student Presentations went Cardiac Science Trainee, Sophie Paulson and the First prize for the Posters went to Genomics Trainee, Louis Casey. Our Congratulations go out to all the prize winners from the day.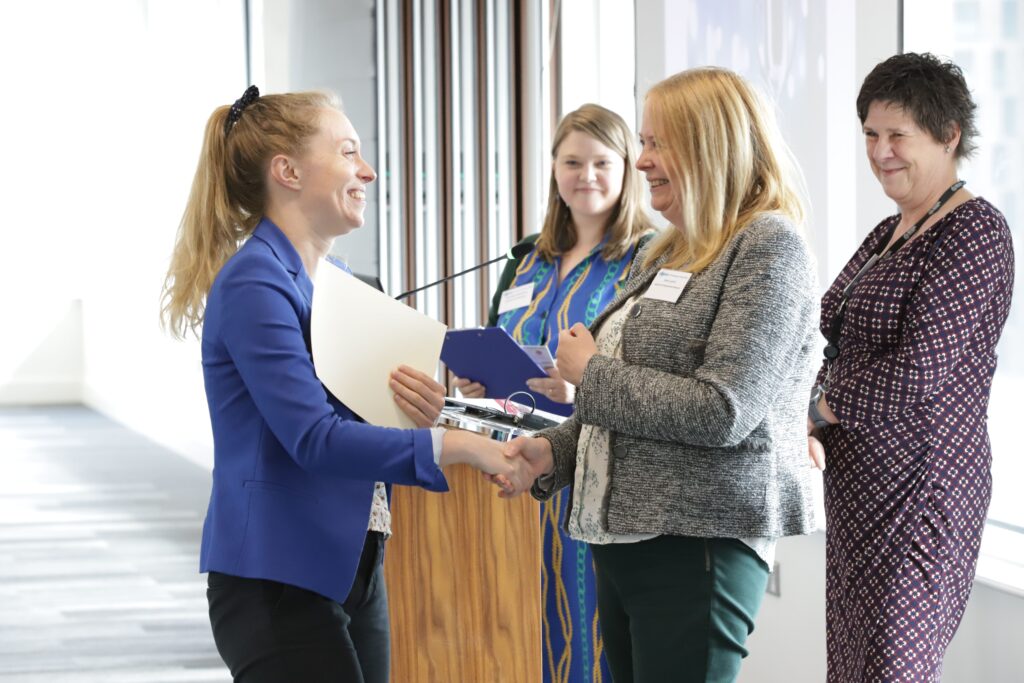 Please see the presentations given by the trainees below:
Kirsten Chalk, Genomic Counselling
Exploring staff views in a clinical genetics department on the use of the Attend Anywhere software during the Covid-19 pandemic
Rachel Duffin, Clinical Bioinformatics -Genomics
Development of an automated pipeline for epidemiological analysis of bacterial metagenomic sequences to support a nanopore-based test for respiratory infection in critical care
Naima Fredericks, Audiology
Perceived career barriers faced by minority ethnic healthcare scientists
Kathleen Gharbian, Cancer Genomics
The Cancer Genome Atlas (TCGA) molecular classification of high risk endometrial cancer at Barts Health NHS Trust
Russell Brown, Clinical Biochemistry
Development and validation of a liquid chromatography-tandem mass spectrometry (LC-MS/MS) method for the analysis of serum testosterone and dihydrotestosterone
Sophie Paulson, Cardiac Science
The use of cardiopulmonary exercise testing to separate the 'Grey-Zone' between early dilated cardiomyopathy and left ventricular dilatation in highly trained athletes
Jonny Sheldon, Health Informatics
Using Machine Learning to de-identify personal data from healthcare records
Lauren Johnson-Cree, Reconstructive Science
Effect of varying thixotropic agent concentrations on the mechanical properties of maxillofacial silicone elastomers
Anthony Abladey, Cancer Genomics
STPs; What we do matters! Bing-Neel Syndrome with co-existing Chronic Lymphocytic Leukaemia (CLL); a rare find.
Clodagh McGuire, Clinical Bioinformatics -Genomics
Identification of transcription factor binding sites as sequencing targets, using Diamond-Blackfan Anaemia as a model
Dinesh Mohanraj, Clinical Immunology
The Student Journey—STP Research and the Publication Journey
Andrew Doig, Guest Speaker
As well has hearing all about the high quality research of our trainees, MAHSE was please to introduce our guest speaker, Andrew Doig, who gave an very interesting presentation based on his book 'This Mortal Coil. A History of Death'. As well as an author, Andrew is also a Professor of Biochemistry at the University of Manchester and Programme Director for the Biochemistry BSc. He studied Natural Science and Chemistry at the University of Cambridge, and Biochemistry at Stanford University Medical School. He became a lecturer in Manchester in 1994, where he has been ever since, carrying out research on computational biology, neuroscience, dementia, developmental biology and proteins. He is a founder and director of PharmaKure, researching into new diagnostics and drugs for Alzheimer's Disease
You can view Andrew's talk below: