On Thursday 13 June 2019, MAHSE held the 6th annual STP Research Day at etc.Venues, in Manchester, which was attended by over 210 trainees and delegates.
The programme included poster presentations from 20 students and talks from a further 9 students, all showcasing research projects from a range of disciplines, as well as a keynote delivered by Allison Lang, Publishing Director of the British Medical Journal.  Prizes for the top performing students on the day were awarded by guest speaker, Angela Douglas, Deputy Chief Scientific Officer for NHS England.
The MAHSE team would like to thank all of the students who took part in the event this year.  Without the trainees' commitment and professionalism the event could not be a success, and all of the research presented was of an exceptionally high quality.
A full right up of the event, including recordings of the presentations, will be available on the MAHSE website shortly, but in the meantime we would like to introduce you to the prize winners of the STP Research Day 2019: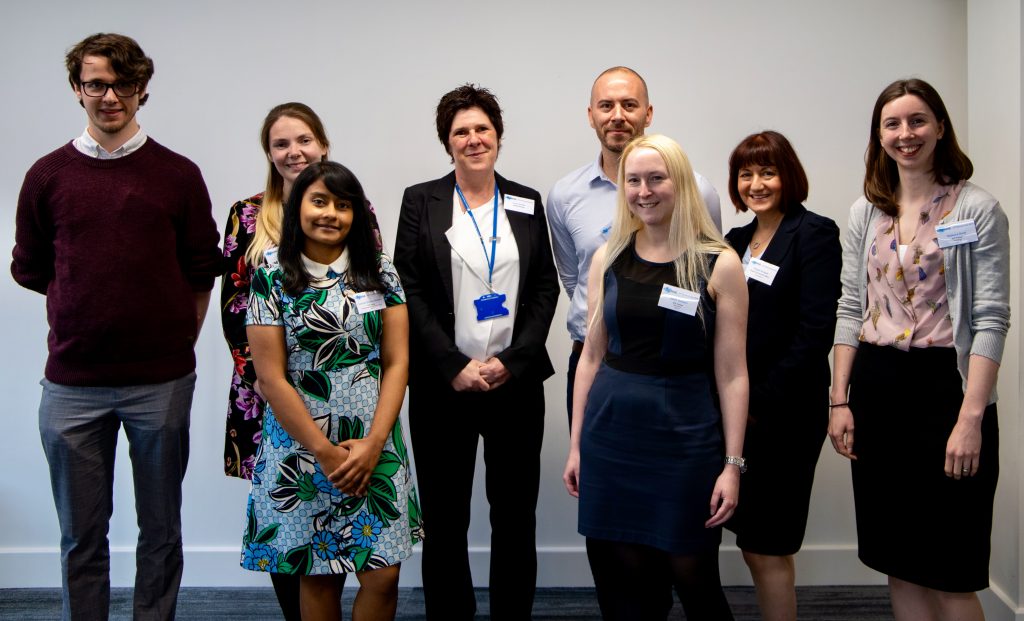 Left to right: Nicholas McCarthy, Lizzie Orr, Sourima Biswas Shivhare, Carol Ainley (MAHSE Director), Phil Macdonald (MAHSE Deputy Director for STP), Sarah Graham, Angela Douglas (Deputy CSO for NHS England), Rebecca Graef.
---
Talks
1st Prize
Sarah Graham (Genomics): A genetic test to improve the treatment of chronic lymphocytic leukaemia.
2nd Prize
Rebecca Graef (Audiology): The Video Head Impulse Test: Should head angle be considered when assessing the dizzy patient?
3rd Prize
Nicholas McCarthy (Clinical Immunology): DFS70 Antibody Testing: Avoiding red herrings in the diagnosis of Autoimmune Rheumatic Disease.
Posters
1st Prize
Jennifer Pilling (Cardiac Science): An investigation into the correlation between patients with Diastolic Dysfunction and Diabetes Mellitus.
(Jennifer was unavailable at the time of the photo above)
2nd Prize
Lizzie Orr (Clinical Pharmaceutical Science): Investigating a Rapid Method of Preservative Efficacy Testing with Non-Sterile Oral Liquids.
3rd Prize
Sourima Biswas Shivhare (Reproductive Science – Embryology): Can artificial intelligence boost chances of success in IVF?
STP Research Day – Congratulations to our prize winners!