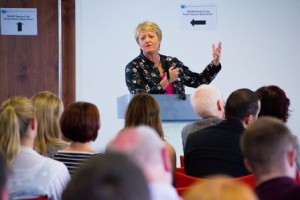 The Manchester Academy for Healthcare Scientist Education (MAHSE) held their first Research Day on Monday 9 June 2014. The day was a resounding success with around 130 attendees. The keynote address was given by the Chief Scientific Officer, Professor Sue Hill OBE, and Jennifer Gilroy-Cheetham gave her experience of conducting research and innovation projects as a Healthcare Scientist in the NHS.
Feedback from the day was very positive with all speakers rated between good and excellent. Comments from the day included words like 'inspirational' and 'motivational'. Over 50% of those attending found the most useful part of the event was learning about the research projects that our final year trainees had been involved in. One trainee noted that "It has refocused and re-motivated me to work hard at my role in the NHS".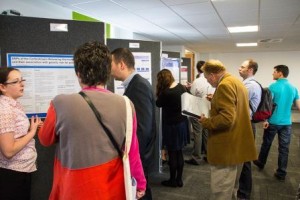 During the event, we had 8 of our lay representatives attend who have recently been appointed to be part of our programme teams. One of our lay representatives wrote on their feedback form that the most useful part of the event for them was "The range of work that goes on in the NHS that is unknown to the public – great advert for the NHS".
Prize Winners
We would like to thank all of the trainees who participated to make the event such a huge success. Out of those who took part, there were five different prizes awarded, as follows:
Winners of the talks:
| | | | |
| --- | --- | --- | --- |
| Prize | Trainee Name | Talk title | NHS Trust |
| 1st Prize | Rachel Curd | A better test for Galactosaemia | Guys' and St Thomas' NHS Trust |
| 2nd Prize | Heather Wilshaw | A novel LC-MS/MS method to detect laxatives in urine | Salford Royal Foundation Trust |
Winners of the posters:
| | | | |
| --- | --- | --- | --- |
| Prize | Trainee Name | Talk title | NHS Trust |
| 1st Prize | Eleanor Bagg | Evaluation of next generation sequencing for the genetic diagnosis of the Primary Hyperoxalurias | Imperial College Healthcare NHS Trust |
| 2nd Prize | Aimee Moss | The objective assessment of eighth nerve function in profoundly deaf children using electrically evoked auditory brainstem responses | Central Manchester University Hospitals NHS Foundation Trust |
| 3rd Prize | Bethan Dancey | Oligoclonal band negative multiple sclerosis: the utility of anti-kappa/lambda antibodies in isoelectric focusing | University Hospital Southampton NHS Foundation Trust |
Due to the overall success of the event this will be an annual occurrence and we will advertise the date for 2015 in due course.
News from the MAHSE Research Day (9 June 2014)