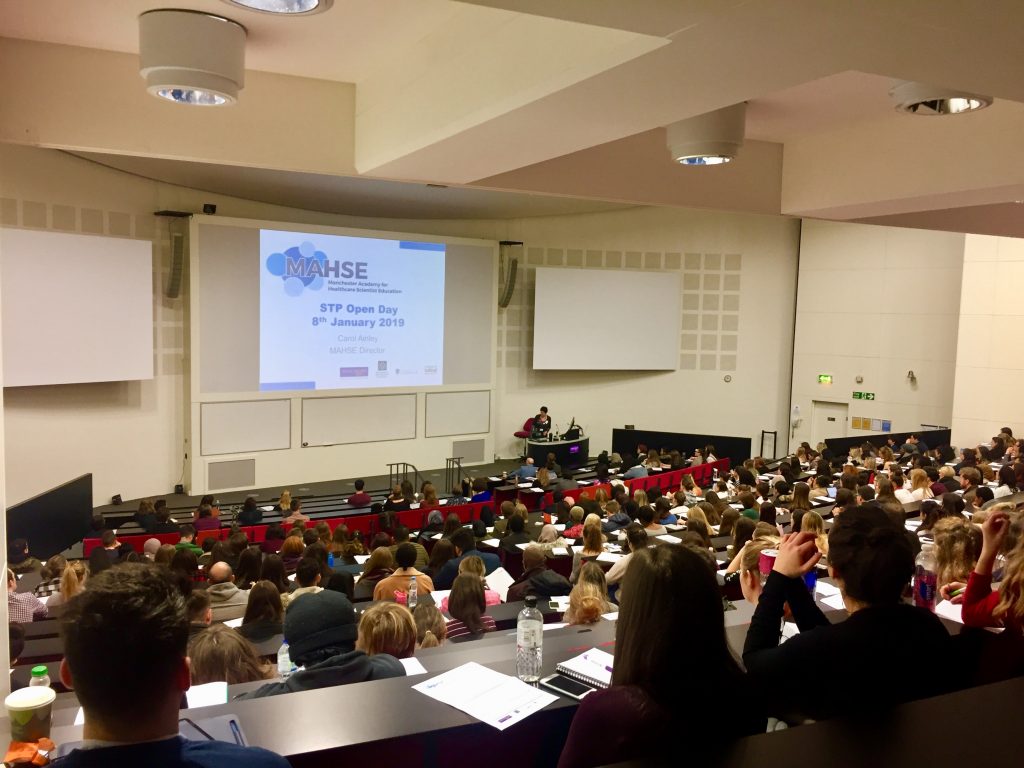 On Tuesday 8 January 2019, the Manchester Academy for Healthcare Scientist Education held it's biggest Open Day yet, where over 300 prospective trainees attended to find out more about the Scientist Training Programme (STP). The event focussed on the MSc Clinical Science courses available at Universities in the Manchester area, which form part of the STP.
General information about the STP Programme
The MAHSE Director, Carol Ainley spoke about the role of a healthcare scientist, what the STP involves  and which MSc Clinical Science programmes are available in Manchester.
CCVRS Sciences Programme Director, Martin Stout, then talked through and provided advice and tips regarding the application process, which is run entirely by the National School of Healthcare Science (NSHCS).
A current STP trainee, Jamie Osborne  from the North West Healthcare Science Trainee Network Board, spoke about what it is like to be a trainee on the STP, and talked about his personal experience of the application/interview process and also about his time on the programme to date.
A podcast recording for the above talks is available here: (click on the talk titles below for the slides relating to each talk)
Programme Specific Information
After general talks, prospective trainees then had the opportunity to attend talks with Programme Teams from particular programmes they have an interested in.  This was an opportunity to get more information about a specific specialisms and to ask more programme related questions
Resources from the Programme talks are available below:
Blood Sciences

(Clinical Biochemistry, Clinical Immunology, Haematology & Transfusion, Histocompatibility & Immunogenetics)

Cardiac Science, Critical Care, Respiratory and Sleep Science

Cellular Sciences

(Histopathology, Reproductive Science – Andrology, Reproductive Science – Embryology)

Clinical Bioinformatics

(Genomics, Health Informatics, Physical Sciences)

Clinical Pharmaceutical Science

Genomic Sciences

(Cancer Genomics, Genomics, Genomic Counselling)

Neurosensory Sciences

(Audiology and Neurophysiology)

Reconstructive Science
Tours of Local NHS Trusts
In the afternoon, attendees had the opportunity to sign up to one of ten tours to local NHS hospitals.  These tours allowed prospective trainees the chance to meet current trainees and staff within specialism departments, providing valuable insight into the workplace aspect of the programme.
Other useful resources for STP Applicants:
Applications for 2019 entry opened on Wednesday 9 January and will close at 5pm on Friday 8 February. For information about applying to the STP, please visit the NSHCS website.
If you have any questions, please email admin@mahse.co.uk
**Please note that the content of the presentations, documents and podcasts within this blog is subject to change, any updates will be posted on the MAHSE website**
MAHSE STP Open Day – January 2019